The global network for automated business transactions
Buying and selling should be easy. Connect to the Pagero Network for a digital, fully compliant exchange of orders, invoices, payment instructions and other business documents — with all of your customers and suppliers, worldwide.
Book an intro
Digitalization is just the start
Pagero's smart business network and accompanying solutions help you digitalize and automate business transactions in the P2P and 02C process. This not only saves on time and costs, it also unlocks a wealth of data to use for more strategic decision-making.
The advantages of connecting to the Pagero Network
Open
Connect regardless of systems or digital capabilities
Global
Reach all your business partners via a single connection
Compliant
Ensure regulatory compliance in all markets
Flexible
Integrate easily and seamlessly with any system
Smart solutions for easier business
Liberate your staff from tedious data entry and document-chasing. Our solutions help minimize manual work, errors and exceptions by automating purchase-to-pay and order-to-cash processes. All while taking care of local and global regulatory compliance.
AP Automation
With Pagero's AP Automation solution, you can receive all your invoices electronically, straight into your financial system — from day one. Increase your control over company spend and ensure your suppliers get paid on time and in the right amount, every time.
Turn your invoice process 100% digital from day one

Automate your invoice approval process

Ensure only accurate data enters your system

Paper and PDF invoices are automatically scanned, verified and imported electronically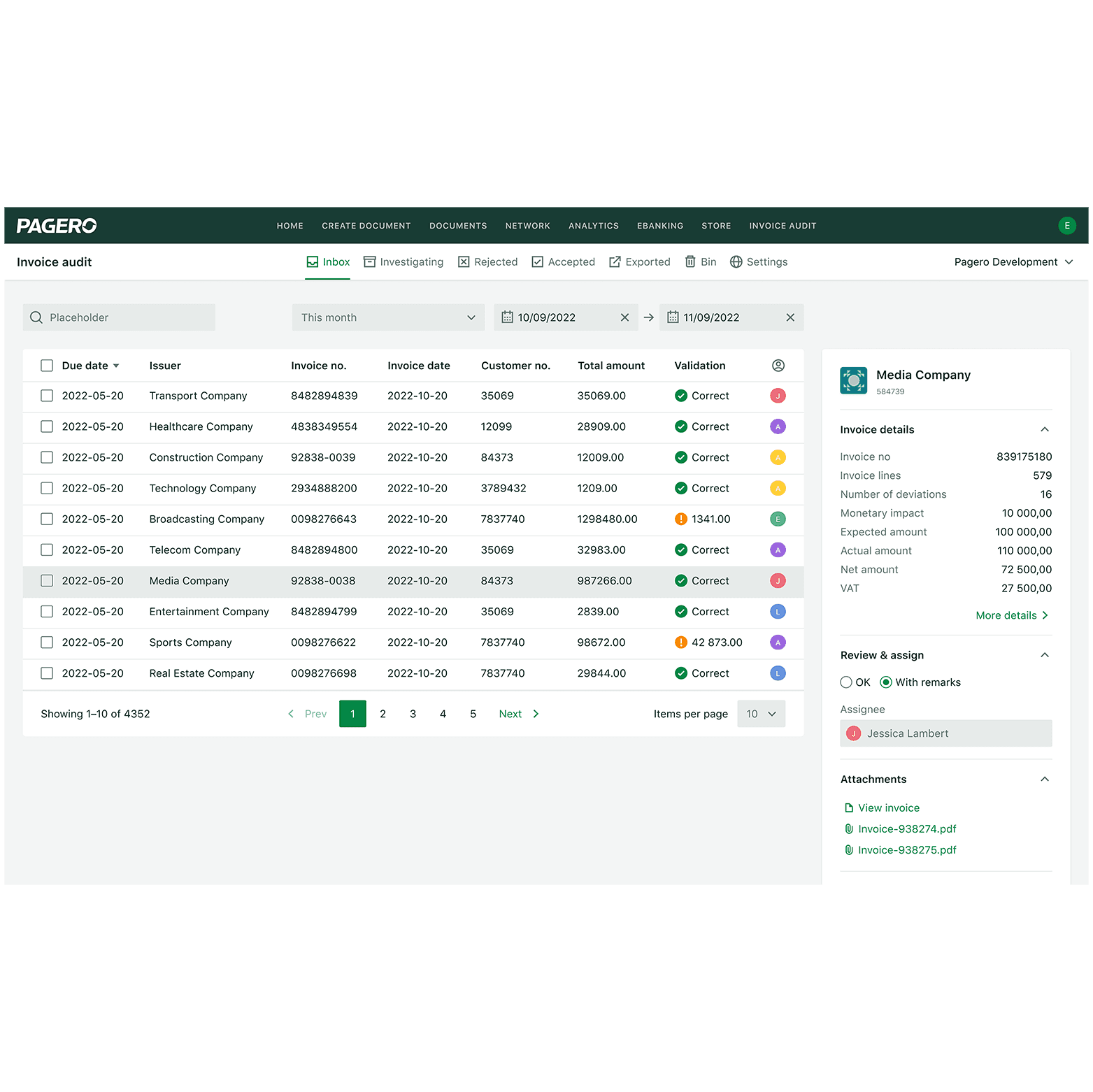 Ready to start digitalizing your business?
Book an intro with us to learn how Pagero's solutions can help your business achieve greater control over company spend and more streamlined operations across the board.
Book an intro
Pagero by the numbers
Thousand hours invested into R&D yearly
Countries with Pagero customers
Thousand trees saved per year
Want to learn more about digitalization?
Read our blogs for a better understanding of core concepts related to e-invoicing, the benefits of digitalizing your business and what to consider when selecting a service provider.
Connect to the network of networks
Exchange documents and automate business transactions with millions of companies across the globe, regardless of their platforms or digital capabilities.
Consolidate your

e-document

strategy

Streamline your purchase-to-pay and order-to-cash processes

Easily adapt to local

e-invoicing

standards and infrastructures
Get in touch
Interested in getting started or learning more? Leave your contact details here and we will reach out to you!