E-invoicing

solutions

We make the switch to e-invoicing simple. Exchange invoices with all your customers and suppliers on Pagero's single, cloud-based e-invoicing platform.
Bring your efficiency to new heights with electronic invoicing
With Pagero's cloud-based e-invoicing solutions, accounting teams can achieve fully automated financial document flows directly between company ERP systems. No matter your industry or business size, you can issue, transmit, receive and process all your invoices electronically.
The advantages of
e-invoicing

with Pagero
Digital
Achieve 100% digital invoice handling by connecting to our network
Compliant
Ensure invoicing and tax compliance everywhere you operate
Seamless
Integrate into any system without new interfaces or interrupting operations
Accurate
Guarantee correct data on all your inbound and outbound invoices
Inbound and outbound
e-invoicing

solutions
AR Automation: Digitalize your outbound invoice flow
Connect your financial system to the Pagero Network to send electronic invoices directly to your customers, no matter which service provider or network they use. Our AR Automation solution ensures timely invoice delivery to all your customers worldwide—even to those without digital capabilities.
Connect to hundreds of government hubs and e-invoice platforms around the world

Access Peppol for fast, secure, borderless trade in all Peppol countries

Pagero distributes paper and emailed invoices to customers not yet ready to receive e-invoices

Get notified instantly when a customer can start receiving electronic invoices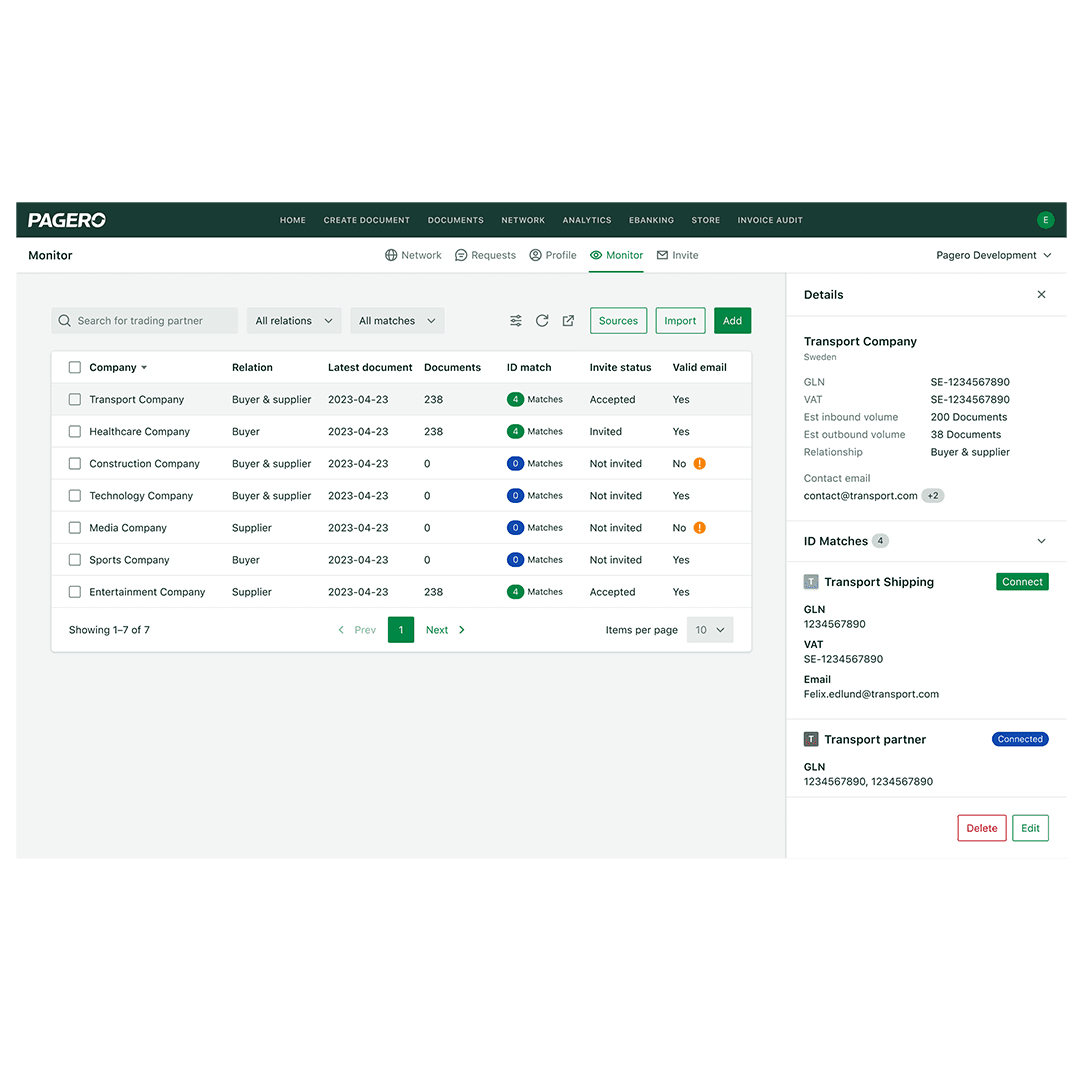 E-book: Expert tips for automated invoicing
Making the switch to e-invoicing is one of the best time investments a company can make. Let our comprehensive e-book serve as your guide in researching, planning and executing a successful invoice automation project.
Download the e-book
Webinar: Why and how to switch to genuine electronic invoicing
Find out the benefits of digitalizing and automating your invoicing process, and key factors to ensuring a successful implementation of an electronic invoicing system.
Watch the webinar
How we help companies with electronic invoicing
Blog: What is an e-invoice?
An electronic invoice (e-invoice) is an invoice that is digital throughout the entire document life cycle, from issuance to archiving. Find out what is not considered an e-invoice and other frequently asked questions in our blog.
Read the blog article
Book a personal introduction to electronic invoicing
Learn how you can automate your invoicing process and streamline operations.
Book an intro
Go digital with Pagero's
e-invoicing

solutions
A fully digital, cloud-based
e-invoicing

process can be simple when you have the right tools. Reach out to us to learn how we can help you significantly reduce invoicing handling costs and headaches.
Achieve 100% digital invoicing

Automate and simplify manual tasks

Ensure compliant

e-invoice

exchange
Get in touch
Interested in getting started or learning more? Leave your contact details here and we will reach out to you!
Some of our electronic invoicing partners