AP Automation solutions
Improve cash flow visibility and achieve straight-through processing with a 100% digital accounts payable process. Pagero's AP Automation solutions make it easy.
Reduce invoice errors and manual work with invoice automation
By connecting to the Pagero Network, you can receive all your invoices electronically. Regardless of the systems your suppliers use, verified invoice data gets imported straight into your financial system. With this automated workflow in place, Pagero helps to ensure your suppliers get paid on time and in the right amount — every time.
EDI 2.0
Experience frictionless document exchange — receive supplier invoices regardless of their format, document type or special requirements.
Managed OCR
Paper and PDF invoices are automatically scanned, verified and imported electronically.
The advantages of AP automation with Pagero
Seamless connectivity
Connect to your supplier's financial system without changing your current systems or processes.
Straight-through processing
Eliminate manual processing of supplier invoices thanks to automation.
Scalability
Our automation solutions grow with your business's ever-evolving needs.
Built-in compliance
Fulfill local e-invoice and tax regulations worldwide.
Add-ons for a smoother Accounts Payable process
Streamline your invoice approval process with Pagero Invoice Audit
Add a layer of validation to your invoices before uploading them to your system.
Accept/reject

Automatic invoice validation

Automatic invoice correction

Price list validation

Historical price comparison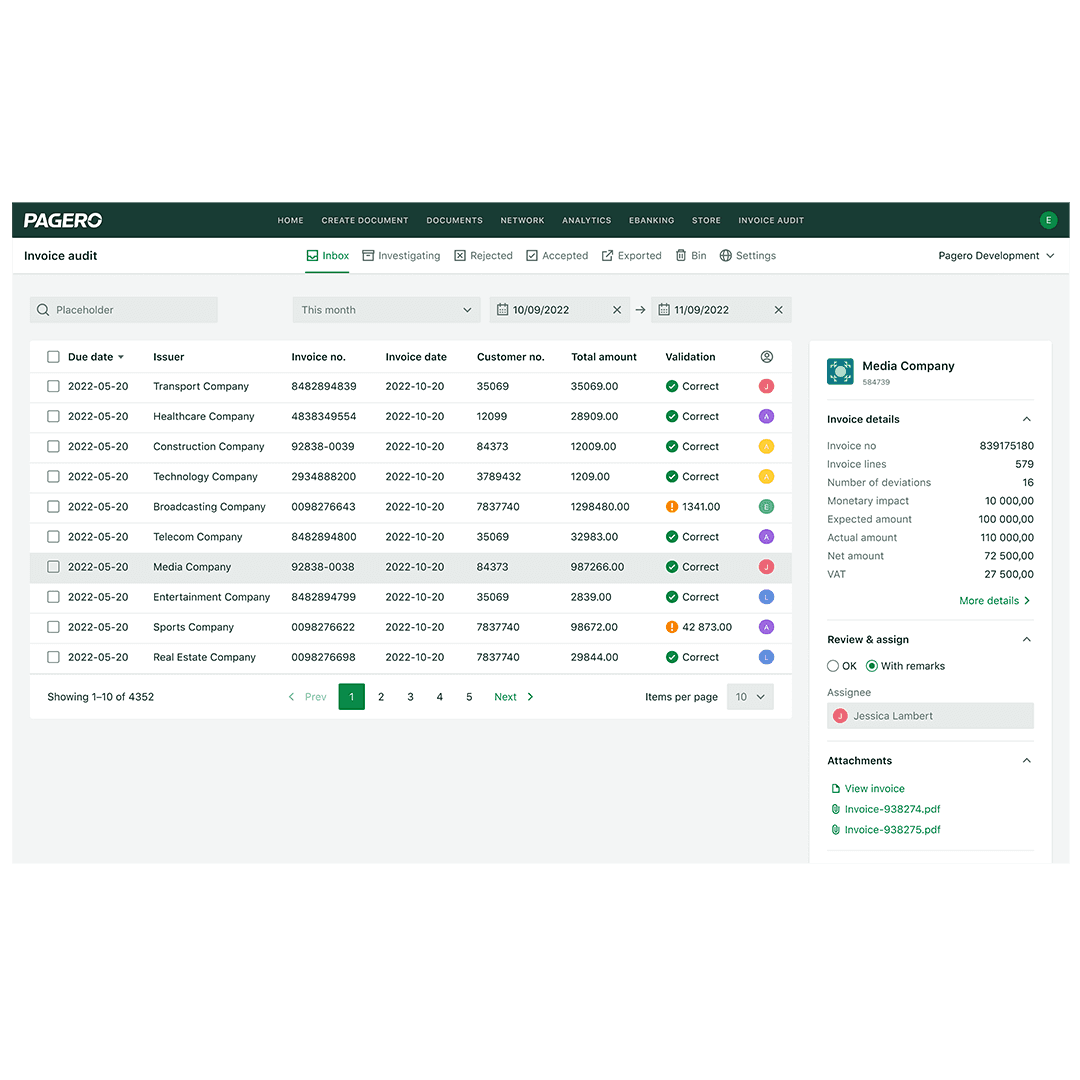 Dig deeper into AP Automation
Webinar: AP Automation with Pagero
We explain the benefits of digitalising and automating your AP process and how Pagero help our customers reach their goals.
E-book

: Expert tips for accounts payable automation

Our extensive e-book will guide you through a range of AP solutions and help you plan and execute a successful accounts payable automation project.
Blog: What is AP Automation?
Find out more about how automated supplier invoicing can benefit your business and learn some considerations for getting started.
Expert guidance from our on-demand webinars
Navigating your AP journey – tips, strategies and insights
How do you build a strong business case for AP automation? In this webinar, co-presented with the Hackett Group, we review the essential KPIs and methodologies that can help you best pitch, structure and evaluate an AP automation project.
The AP journey for manufacturing organizations
In this webinar, tailored for the manufacturing industry, you'll learn the essential steps that will move your AP department closer to achieving touchless invoice processing, as well as how to determine the ideal tech stack for your organization.
Customize your solution with a wide range of features and add-ons
Supplier onboarding? Leave it to us!
Onboarding suppliers is an important step in a successful accounts payable automation project. We offer fully managed supplier onboarding — a service tailored to the strategies and goals of your business.
Download PDF to read more
How we help companies with Accounts Payable Automation
Book a personal introduction to Pagero's AP Automation solutions
Learn how you can automate your supplier invoicing and streamline operations.
Book intro
Frequently asked questions
Automate your supplier invoicing with Pagero
Our platform can help you significantly reduce invoicing handling costs and unlock new opportunities with valuable, real-time data.
Streamline your accounts payable process

Automate manual AP tasks

Get all your suppliers onboard your digital transformation
Get in touch
Interested in getting started or learning more? Leave your contact details here and we will reach out to you!
Some of our AP Automation partners