AR Automation solutions
Step into the global accounts receivable fast track. Pagero's AR Automation solution helps you create fully digital and compliant invoicing flows.
Send all of your customer invoices quickly and easily
By connecting your ERP system to the Pagero Network, you can start distributing all your customer invoices electronically. Do certain customers prefer paper or PDF? Pagero handles it for you, automatically. Regardless of the digital capabilities of your customers, Pagero's AR Automation solution guarantees timely delivery and accurate data — every time.
E-invoicing
Send e-invoices directly to customers, no matter which service provider or network they use.
Government hubs and interoperability
Connect to hundreds of government infrastructures and e-invoicing platforms.
Peppol access
Gain access to Peppol to conduct fast, secure, borderless trade.
Mail and email distribution
Pagero converts your e-invoices to paper or emailed PDFs for customers who aren't e-ready.
The advantages of AR Automation with Pagero
Digital
Achieve 100% digital customer invoice distribution from day one
Compliant
Ensure local e-invoicing and tax compliance in all countries where you operate
Global
Reach all your customers, regardless of country, platform or provider
Seamless
Integrate with any ERP system to continue operations without adding new interfaces
Add-ons for a smoother Accounts Receivable process
E-invoice

notification watchlist

Lower AR costs every time a customer switches to e-invoicing.
Instant notifications when customers join

Automatic addition to your match list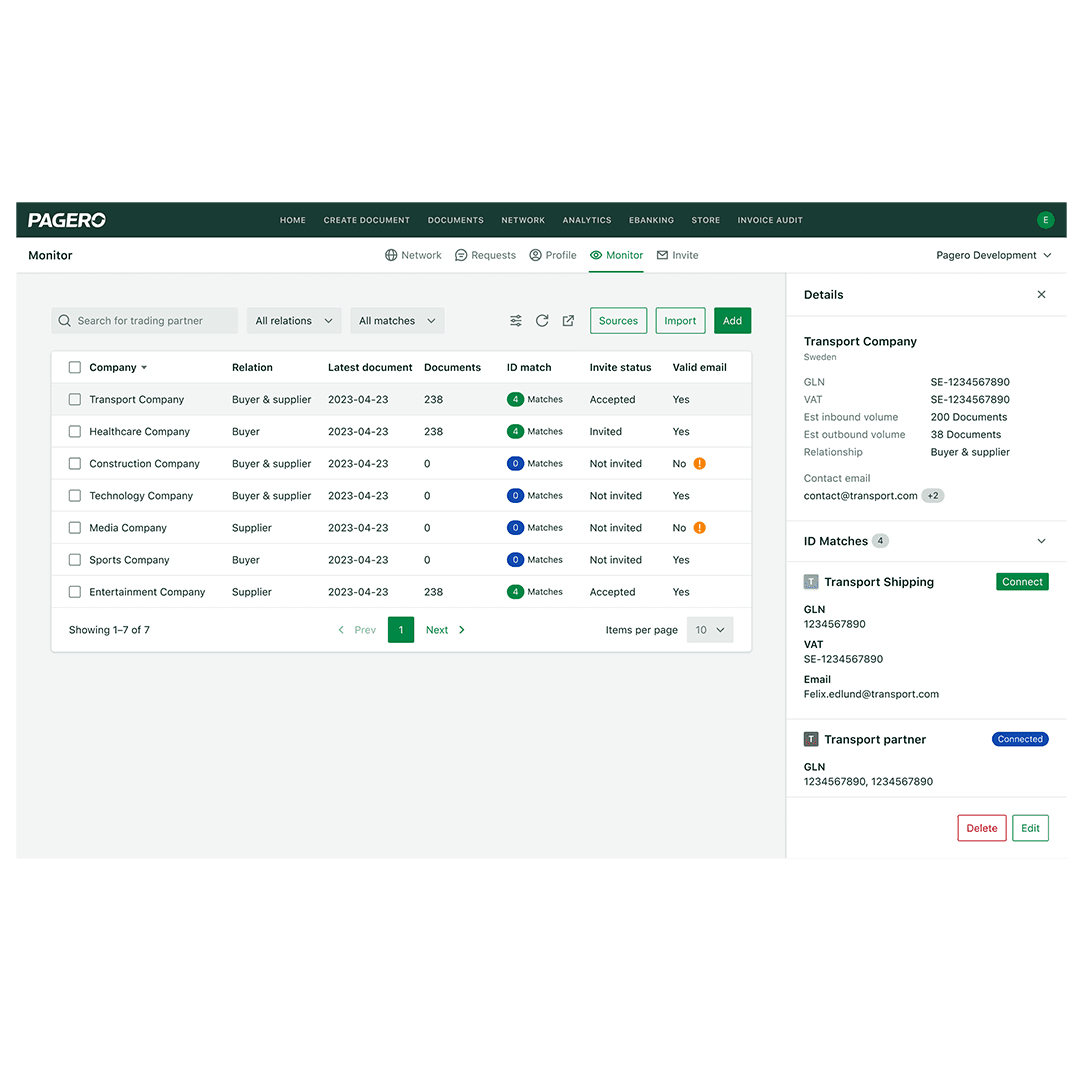 Dig deeper into AR Automation
Webinar: How to automate accounts receivable invoicing
Take a closer look at how Pagero's Accounts Receivable Automation solution helps businesses digitalize and automate the customer invoicing process.
Guide: A better accounts receivable process starts with
e-invoicing
In our free e-book you can learn how to implement customer e-invoicing, which significantly reduces errors and saves time, money and resources.
Blog: What is AR Automation?
Accounts Receivable Automation is the end-to-end digitalization of the invoicing process. Learn what to keep in mind when getting started with automated customer invoicing in our blog article.
Customize your solution with a wide range of features and add-ons
Book a personal introduction to AR Automation with Pagero
Learn how you can automate your customer invoicing process and streamline operations.
Book intro
How we help companies with Accounts Receivable Automation
Automate your customer invoicing with Pagero
Accelerate your AR process and ensure constant compliance — no matter where in the world you do business.
Send all your invoices electronically through the Pagero Network

Automate manual accounts receivable tasks

Reach the private and public sector on a single platform
Get in touch
Interested in getting started or learning more? Leave your contact details here and we will reach out to you!
Some of our AR Automation partners